Summer is here, and it's time to keep our feet cool and in good health during these hot months! When we let our feet out to breathe, we also expose them to the sun, fungi, and bacteria in the environment. It's essential to take precautions to prevent sunburn and infection. Our Springfield, VA, podiatrist gives some tips for keeping your feet healthy this summer.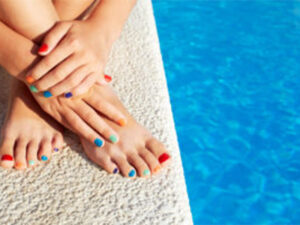 Avoid Infections
Fungal, viral, and bacterial foot infections are common reasons we see patients in our office. Bare feet are exposed to fungus and bacteria in the environment in the summer, and walking around barefoot or in sandals can lead to conditions such as athlete's foot and plantar warts. These can spread quickly in warm, moist places such as pools and showers. Make sure that you wear shoes around the pool and public showers. Wash your feet with warm water and soap when you return home from your outdoor activities.
Socks for Summer
If you're not a fan of sandals and stick with sneakers during the summer, you should ensure that you're wearing the proper socks. Wear moisture-wicking socks with good ventilation to keep your feet cool. Trapped sweat can lead to stinky feet and fungal infections! Always let your feet breathe after returning home and wash your socks after each wear.
Drink Water
It's easy to get dehydrated during the hot summer months. Make sure you drink enough water – it increases blood flow, and since our feet are the furthest part of our bodies from the heart, blood circulation is critical for foot health. Additionally, staying hydrated reduces swelling of the feet, reducing the risk of injury and pain.
Contact Our Springfield, VA, Podiatrist To Learn More!
The information provided in this article is not meant to be medical advice and is for educational purposes only. If you would like to learn more about this and other podiatry-related topics, feel free to contact The Podiatry Center by clicking here or by calling 301-232-3764.